industrial vacuum solutions
We offer an Emergency High Rail & Emergency Vacuum service to respond quickly to unexpected rail track maintenance needs. Our service is designed to efficiently remove and replace ballast, clean up potential pollution problems, and respond to emergency situations.
Track Vac Guzzler High Rail

Railroad professionals have turned to Track Vac for industrial vacuum solutions to efficiently clean up potential pollution problems and respond quickly in emergency situations. The Track Vac Guzzler High-Rail is a rail-ready, boom-equipped, self-contained vacuum truck that uses vacuum power to remove contaminated and unwanted materials from track beds.
Versatile for the Rail or the Road
Removed material is stored in Track Vac's Guzzler High-Rail large collection tank for subsequent treatment and disposal or reuse. Unlike other vacuum trucks configured solely for track use, the Track Vac High-Rail industrial vacuum truck operates on both rail and road. Within minutes, Track Vac's Guzzler High-Rail vac truck can be converted from road-ready to rail-ready.  The Track Vac High-Rail is a fully equipped high-rail cleaning system that features a loading boom, hydraulic creep drive and rear-mounted operator chair, where complete industrial vacuum operation can be achieved from a single position while loading or driving over the rails.
Safety in Mind
Multiple tie off points
Fold down hand rails
Fully enclosed inspection areas
Grounding straps
Automatic, manual, & inline vacuum reliefs
Multiple emergency stop buttons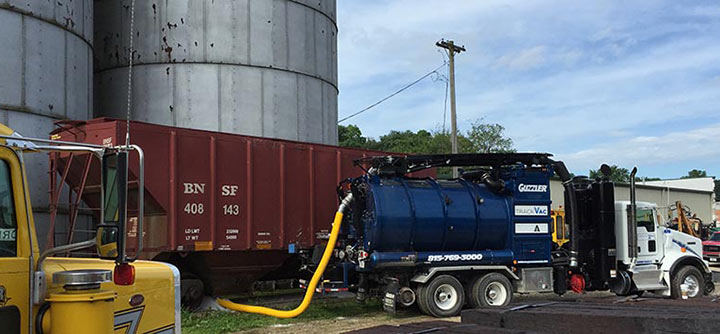 Industrial Vacuum
Track Vac's heavy duty high rail truck is not only meant for the railway,its the same awesome piece of equipment that is used for tons of applications in industry. We can arrange these services in weekly or monthly scheduled jobs, target jobs or any emergency cleanup situation.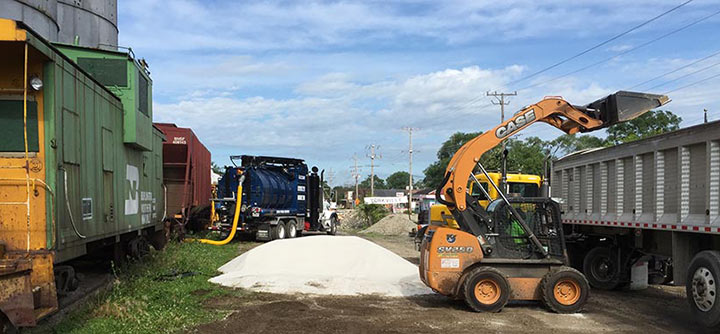 Emergency High Rail & Emergency Vacuum
Track Vac's high rail will be ready when an emergency situation arises. We are prepared to cleanup chemical spills, sand, waste and the list goes on.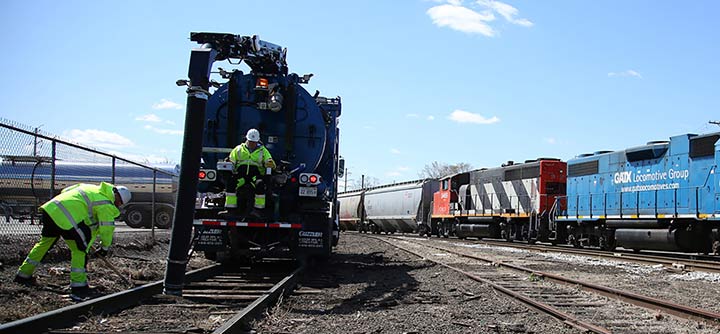 Weekly Maintenance & Support
Track Vac can support your business on a scheduled basis. This will help you get the best rates we can offer for our services.
TrackVac Services is a leader in emergency high rail and vacuum services, providing efficient and effective solutions with our commitment to safety, reliability, and quality.  We give our customers peace of mind knowing that their rail track maintenance needs are in good hands. Contact us today to learn more about our services and how we can help you with your emergency track maintenance needs!
Wedron Silica Covia Corp.
Aaron Willet
The entire team at Track Vac services has been a pleasure to work with over the years. Track Vac continues to provide the professional and reliable service one would expect. Track Vac services will without a doubt deliver the safe, efficient, and quality work your looking for.
Frequently Asked Questions
No, we are not able to transfer the materials off-site. The materials will have to be dumped on-site and re-loaded to a vehicle that can transfer and dispose of it.
Yes! We have partners who can handle transferring an disposing of the material.
Yes! We can handle both dry and liquid.